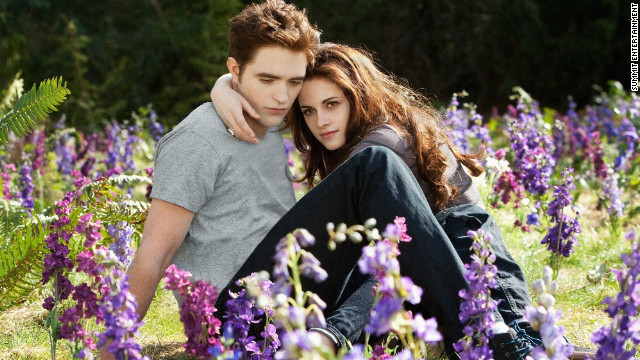 Nu är Twilight över föralltid mina vänner,ska man torka tårarna eller fira? Jag tycker att det är skönt att fiaskot äntligen har nått sitt slut.Nu lämnar vampyrerna marknaden och gladiatorspel för barn tar över.
Filmen var okej,jag tyckte inte att den sög men inte att den ägde heller.Men den hade 2 stunder som gav mig hjärtstopp!
När jag såg att Aro höll i Carlisle huvud blev jag helt förstörd,jag kunde inte fatta att det var sant.Inte fan kan Carlisle jävla Cullen dö??? Och det kunde inte sluta där heller,för direkt efter förlorar även Jasper sitt huvud som gjorde att jag tappade mitt eget huvud i golvet.
Men där fick de oss allt,för det slutade med att det bara var en vision Alice hade.Så det slutade med att alla levde lyckliga i alla sina dagar.
Det gjorde mig fan arg !! Men åt andra sidan skulle jag aldrig komma över om Carlisle eller Jasper dog på riktigt heller.
Så där alla era twihards,där har ni the epic final.
(Deras unge var animerad halva filmen,vafan vill de??)
Twilight is now officially over forever my friends,should you dry your tears or celebrate? I think it's great that the fiasco is finally over.The vampires are now leaving the stage and in comes gladiator for children.
The movie was okay,it didn't sucked but it didn't rock either.But there were 2 moments that gave me a cardiac arrest!
When I saw Aro holding Carlisle's head,I was devastated I just coulnd't believe it was true.How the hell can Carlisle motherfucking Cullen die?? And they couldn't end it there either,because Jasper loses his head too a second after,which made me drop my own head to the ground.
But they really got us there,because it turned out just be a vision Alice hade.So they ended up living happily ever after.
I got pissed!! But in the end of the day,I would never have gotten over if Carlisle and Jasper died for real.
So there you have it twihards,the epic final.
(their fucking kid was animated half of the movie,what's up with that?? WTF???)